Trump creates the threat in Iran
Trump threatens Iran with annihilation
"If Iran wants to fight, this will be the official end of Iran," tweeted Donald Trump. "Never again threaten the United States," added the US president.
Trump's unequivocal warning comes at a time of greatly heightened tension between Washington and Tehran. With reference to an unsubstantiated "immediate threat" from Iran, the US government moved an aircraft carrier, a bomber squadron and an anti-aircraft battery to the Gulf region since the beginning of May. It also tightened the sanctions imposed on Iran. For its part, the leadership in Tehran announced on the first anniversary of Trump's termination of the international nuclear agreement that it would no longer comply with certain points of the agreement in the future.
(No) fear of death
Before Trump's tweet, the commander of the Iranian Revolutionary Guard had also made militant comments. Iran and its Revolutionary Guards did not want a war, stressed Hussein Salami. However, they weren't afraid of it either, he emphasized. The US troops - unlike the Revolutionary Guards - are afraid of death, and such an opponent is "easy to defeat".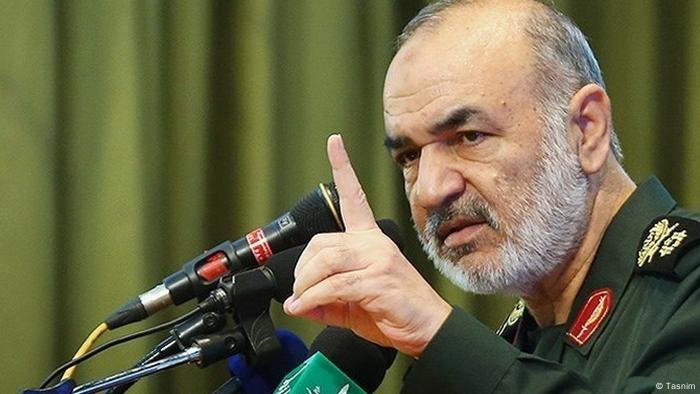 Heads the Iranian elite unit: General Hussein Salami
Trump accuses Iran of continuing to pursue nuclear weapons, destabilizing the Middle East and Gulf regions and promoting terrorism. Saudi Arabia suspects the Iranian government to be behind drone attacks on oil facilities in the country and attacks on domestic oil tankers.
Germany, France, Great Britain, Russia and China want to stick to the nuclear agreement. But they have not been able to prevent most of their companies from pulling out of Iran for fear of US sanctions. "One must honestly say that the economic advantages that Iran has promised itself with this agreement (...) can no longer be achieved without the Americans," admitted Federal Foreign Minister Heiko Maas on German television.
wa / ust (afp, dpa, rtr)