Anyone who deals with websites professionally cannot avoid dealing with the security of their own Internet presence. But the question of the SSL encryption essential.
In this post, you will learn what technology is all about, why it is so important, and how you can use it SSL encryption on your own website.
SSL and TLS: what is it?
Even if you've never heard of SSL heard, you are likely dealing with it every day, even right now. And you've probably noticed that some URLs start with "http: //"And others with"https: //".
You may have even noticed that the additional letter occurs mainly whenwhen you provide sensitive data to a website, such as your account details for an online purchase.
But where does the additional "s" come from and what is it all about? To put it simply: The additional "s" indicates that your connection to this website is encrypted and therefore secure. This prevents hackers from intercepting your data. The principle behind it is called SSL (Secure Sockets Layer) or - as the current version of the same technology - TLS (Transport Layer Security). However, SSL has established itself as a designation for both versions of the technology.
What is SSL encryption?
SSL (Secure Sockets Layer) is the security technology standard for creating an encrypted connection between a web server and a browser. It ensures that the data transferred between two systems, for example a user and a website, remains private.
Security through SSL encryption
In practice this means that if you enter data or information on a website without SSL, you make it an easy target for hackers.
This could include a variety of things, such as details of a bank transfer or general information that you enter to register for a quote. In the hacker's language, this "interception" is often called "Man-in-the-middle attack" designated.
The actual attack can take several forms, but the most common method is this: Hackers place a small, undetected eavesdropping program on the server that hosts a website. The program waits in the background for visitors to come to the website. As soon as this data is entered, the program activates a mechanism that captures the data and sends it to the hackers.
But if you visit a website that does is encrypted via SSL, your browser establishes a connection to the web server, checks the SSL certificate and establishes an encrypted connection between your browser and the server. This connection is secure so that no one except authorized persons can access your data.
This connection is instant and automatic - as a user of the website, you don't have to do anything for it.
How can I tell if a website is using SSL?
A few pieces of information in the browser indicate whether you are visiting a website with (working) SSL.
1) The URL begins with "https: //" and not with "http: //"
This is what it looks like:

2) You will see a small lock symbol in the URL bar
It is displayed either on the left or on the right in the URL bar, depending on the browser. Click on the lock to get more information about the website and the company that provided the certificate.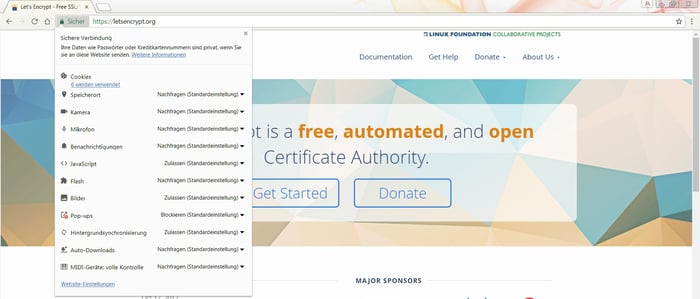 3) The SSL certificate is valid
Even if a website URL starts with "https: //" and the lock symbol is displayed, it is possible that the certificate has expired. If so, your connection would not be secure. In most cases, pages with URLs starting with "https: //" will be safe. But if you come across a site that asks for an excessive amount of personal information, just to be safe, you can Validity of your SSL certificate check.
To get in Chrome to find out whether a certificate is valid, click the lock in the URL bar. Then go to "certificate"To see the details of the respective SSL certificate.
Also in Firefox To check the SSL certificate, click on the lock symbol next to the URL. In the pop-up that opens, click on the arrow to the right of "Connection secured". A window with the page information will then open.
Different browser, same game: Also insafari To check the validity, click on the lock to the left of the URL. Then go to the button "Show certificate"And the relevant information becomes visible to you.
Is SSL encryption mandatory?
The SSL encryption is not mandatory for all website operators. Since the introduction of the General Data Protection Regulation (GDPR) on May 25, 2018, however, it has been mandatory for websites that use forms or online shops personal data Interrogate. In short, mostly when users have to enter something in free fields.
If you have a website or want to set up one, you have to activate SSL for all content that contains forms - even if you only ask for an email address.
But even if you are not legally obliged to do so, we recommend that you enable SSL on your entire website. Which brings us to the next point.
Is SSL Good for SEO?
SSL has become a matter of course for most website operators. One reason for this is that the Google Chrome web browser started in 2017 Websites without SSL encryption mark as unsafe. Since then, a warning has been played out to users of the browser while they are accessing the page. In the meantime, other major web browsers, such as Firefox or Safari, have also introduced warnings.
For all website owners who want their site to be well visited, that alone is a good reason to encrypt their website with SSL. Because many users have a bad feeling about surfing on pages that are marked as unsafe. Conversely, this means falling visitor numbers and a high bounce rate of the page.
Incidentally, Google publicly announced back in 2014 that on two websites that are the same from all other points of view, a page for which SSL is activated will receive a better position in Google search results.
Thus, the question of whether SSL has a positive effect on SEO can be answered with a clear yes. Although encryption is actually used to protect data and information, it also has a positive effect on the visibility of the page.
Set up SSL encryption: WordPress plugins for SSL installation
If you use WordPress to host your website, you may need a SSL certificate depending on which domain provider you use.
Below is a list of plugins that can help you with this:
1) Really simple SSL
The Really Simple SSL plug-in helps you to install the certificate for all of your WordPress content. Premium versions are also offered for the plugin, which help you to install and verify SSL on different sites.
Price:The premium versions cost from $ 29 to $ 159.
2) Insecure Content Fixer
Once you have purchased and installed an SSL Certificate, there may be one more step you need to take. Because if there are "http: //" links on your website (for example to image files), the page will still be displayed as unsecured. The Insecure Content Fixer helps you to locate and correct all of these references so that the browser evaluates your website as safe.
Price: Free
3) WP Force SSL
After purchasing and installing SSL and fixing any bugs, you should make sure that the secured version of your website is actually being displayed to all visitors. The WP Force SSL plugin helps you direct all traffic to the HTTPS version of your website.
Price: Free
The SSL encryption is an essential part of online security. The technology helps users to transmit their data in encrypted form and website operators to increase the visibility of their website. It is even mandatory for websites that request personal data.

No matter what purpose you pursue with your website on the net: The conversion to https So it's definitely worth it.
Header image: NicoElNino / iStock / Getty Images Plus
Originally published April 1, 2020, updated April 01, 2020
Recommend this article: