Holds back information about a wedding
Corona & Wedding: The most important information and tips
Image: © Depositphotos.com/deagreez1
Posted on News
*** Updated on: 19.05.2021 ***
---
A completely unexpected situation hit us with full force: Due to Corona and the effects, some weddings had to be canceled or postponed. but how does it continue?

We have put together the most important information and tips for you to get through the situation and general uncertainty in the best possible way.
In advance: Please keep calm first, get an overview of the situation and try to be flexible. Let groomsmen and the family help you, that they clarify points for you if necessary and support you where possible.
---
This article is divided into the following areas:
---
---
Which weddings are affected?
In any case, do not overreact, but wait for the coming weeks! It is recommended to make a concrete decision at the earliest 6 weeks before the planned appointment. Stay in contact with your location, as the regulations can change quickly.
Current situation from May 19th, 2021 - concrete information about wedding celebrations

All statements without guarantee. Specifications can change at any time. Please note that the easing measures can be further restricted in the short term.
Germany: "Private gatherings between your own household and another household have been possible since March 8th. In total, no more than five people may come together. Children up to 14 years are not counted. Couples are considered to be one household. This also applies to being in public.
The emergency brake that has been adopted in the event of increasing numbers of infections continues to apply and should be implemented consistently: If the 7-day incidence in a federal state or region rises to over 100 on three consecutive days, the rules will come into force again from the second working day March have been valid. Private meetings are then limited to your own household and one additional person. This also includes children under the age of 14 and this also applies to being in public. "(Corona portal of the Federal Government)
In the case of incidences below 100, each federal state continues to decide on the rules and restrictions.
Austria: "Wedding celebrations on the usual scale are currently not possible. A maximum of 50 people are allowed to participate. The minimum distance of 2 meters to people who do not live in the same household must be observed and an FFP2 mask must be worn. However, no food or drinks may be given. "(Ministry of Social Affairs Austria)
Switzerland: "Events with a maximum of 15 people are possible." (Swiss Federal Office of Public Health)
---
---
Canceling / postponing a wedding: What are the costs?
A clear distinction must be made here as to whether the wedding may not officially take place or whether you want to cancel or postpone the wedding out of sheer caution.
If you don't get a Wedding insurance (pandemics are now excluded), a look at the terms and conditions of your wedding service provider (cancellation conditions) generally helps. Above all, open communication is very important here.
The "Trautante" has summarized the most important questions and legal aspects around this topic for you:
Weddings in times of the coronavirus - the legal assessment of lawyer Simone Winkler
---
---
Inform guests / change the date
The uncertainty is one of the worst at this time. So don't leave your guests alone with their questions and let them know how you plan your wedding. Even general information such as "We're definitely getting married, but have postponed the date for now" is better for your guests than hearing nothing.
Here are some nice ones Change the date cards selected for you, with which you can give an update on your wedding quickly and easily.
---
---
Our wedding can take place. What do we have to pay attention to?
Number of guests
The maximum number of guests really includes ALL guests, including babies, no matter how old. Tip: Don't forget to count your service providers too!
Wedding dress delivery
Due to Corona, there may be delivery problems with the wedding dresses (many are made in China). Sometimes it is also advised to pick up the wedding dress from the shops earlier than planned so that you can have it safely at home. Just give your bridal shop a call.
Talk to people from the risk group
There are groups of people who are more at risk that the course of a corona infection will be worse. These include above all people of older age, with previous illnesses or a poor immune system. Most likely, these people will see it that way that they should stay away from the celebration. Maybe you can set up a live video broadcast of the wedding?
Full guest list contact details
It is advisable (and in some cases also a requirement) to create a complete guest list so that all wedding guests can be reached in the event of a verified COVID-19 infection. Start doing it in time.
keep distance
In the current situation, dispenses with the typical wedding congratulations, so that the infection of Corona is prevented. If possible, seat fewer people at your tables and keep more distance between the tables.
Outdoor wedding / celebration
If the wedding location and the weather permit: Try to spend as much time outdoors as possible.
Menu instead of buffet
Discuss with your wedding location whether a menu instead of a buffet is possible. This avoids queues of people.
Very important: Find out which requirements must be complied with in your state. There is a risk of huge fines for non-compliance!
What to do if a service provider has to be quarantined?
Talk to your service provider. Many professional wedding service providers have a large network and you can certainly find a perfect representation together. If you still need a service provider at short notice, then take a look at our Wedding service provider business directory order or make a call through ours Facebook group.
---
---
Inspirations around getting married during Corona times
Wedding for two
A nice alternative: celebrate your love happiness very intimately as a couple. You can toast with your guests at a large after-wedding party as soon as the situation has calmed down again.
---
Small garden wedding
A cozy garden wedding also has its charm. Sure, you probably can't celebrate in a big group, but you have an absolutely intimate celebration with your favorite people ...
---
Live broadcast
Did you have to cut your guest list drastically or do you have some people in the risk group?
With a live broadcast of the wedding, you can also let these people participate. So you don't have to cancel the entire wedding right away.
---
Wedding homepage
The situation changes almost daily and no one can predict how things will go on.
That is why a wedding website is currently the easiest way to keep your guests up to date without having to send out new messages.
---
Thank you booklets for everyone who couldn't be there
Older or previously ill people are better off staying away from weddings in the next few months. So that you can still include them and give them a comprehensive review of your party, create a thank you booklet.
In addition to the most beautiful photos, the most beautiful experiences and moments are also captured here. A great memory for everyone!
---
Beautiful masks for more wedding flair
Of course, wearing a mask on the wedding day is not nice, but it is necessary in many situations.
Sweeten the safety measure by getting a special mouthguard for the bride and groom.
Tip: You should also have masks ready for some of your guests in case they have forgotten their mouth and nose protection.
---
---
Decorative reference to distance
"You are by far the best guests" is a nice play on words and a nicely worded advice to your guests to keep your distance.
With us you can download the sign for free in different colors and set it up in a frame of your choice. If necessary, it is also advisable to place the sign in several places in order to make the request to keep your distance a little clearer.
After all, this saying is a very appropriate motto in Corona times.
Shield template download for free
Register for our free wedding tips and you will receive the sign "You are by far the best guests" for your wedding via download link (PDF).
---
Folding rule for the wedding as a guest gift
Somehow we all have to try to make the best of the situation - so why not choose rulers to measure the distance as a present for a present? Simply give away a folding rule for each household so that everyone always remembers the distance.
There are beautiful folding rules in your wedding color or individually printed folding rules.
---
---
Support protective measures
Distributed disinfectants on all tables, bar tables and other places where your guests often hang out. Best in nice little dispensers like this one with the imprint "Stay safe" (4.32 € / pc.).
With a suitable sticker you can even personalize it with your name and your wedding colors or your own saying.
---
Virtual JGA
Despite contact restrictions, your bachelorette party does not have to fall into the water. Groomsmen can easily organize a virtual JGA and thus gather their dearest friends from all over Germany and the world online.
We have put together in a separate article how your JGA chat will be particularly funny.
---
---
---
A wedding in Corona times
Getting married in 2020 wasn't easy, but some newlyweds were still able to enjoy their wedding day. Also or precisely because everything was different than planned.
Outdoor wedding ceremony
Here are a few insights into the small wedding ceremony and wedding celebration of Peggy and Max in the Oranienburg Palace Park in Berlin.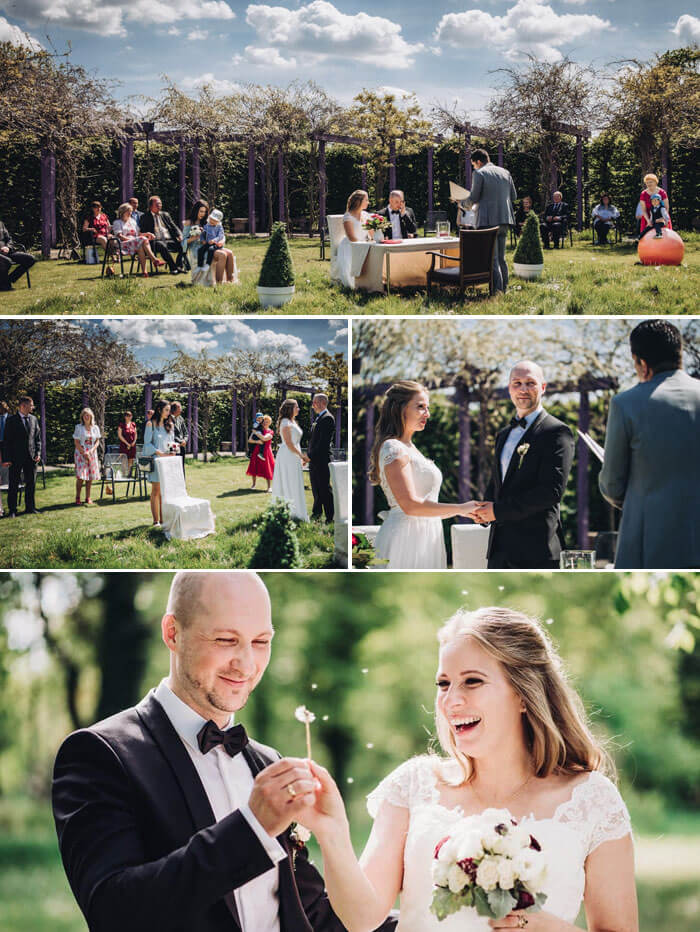 Photos: Iris Woldt, wedding photographer for Berlin and Brandenburg

---
Get married in a civil registry office during Corona times
It was also possible to marry a few relatives and masks at the Mandlstrasse registry office in Munich. After all, it matters that you say yes!
Photos: skop wedding photographer Munich

---
---
Would you like to be informed about new developments?
Then carry yourselves in ours free newsletter and in the future you will automatically receive the most important news and loving wedding ideas by email.
---
---
Note this article on Pinterest
Sonja Schulz
She is (originally) a trained media designer and very creatively structured. In addition to the editorial content, she prefers to take care of beautiful picture inspirations for your wedding. Together with her husband Raffael, Sonja wrote and designed the book "100 Wedding Checklists". The passionate hobby photographer loves to travel, she loves things colorful in her wardrobe. Sonja has been married since 2009 and has been with us since 2011.