How insulates bubble wrap
Insulate the greenhouse with bubble wrap
This year the greenhouse will be insulated from the inside with bubble wrap in order to raise the temperatures and to bring the harvest early. The small seedlings shouldn't get cold feet - let alone should the tender leaves freeze into frozen vegetables! The insulation with bubble wrap is inexpensive and quick.
How to do it
The first thing I did was clean the windows. Now a lot of light comes through again.
I got these bubble wrap fasteners. These are two-part plastic holders. They consist of a threaded mandrel attached to a base plate. A cap is screwed onto this mandrel. So you put the bubble wrap on this mandrel and then you can fix the whole thing with the cap. So the film is quickly on and off again quickly.
The mandrels with the base plate are glued to the greenhouse panes with a neutrally crosslinking silicone. Neutral cross-linking because the panes are attacked by normal silicone and can tear.
I bought the bubble wrap on ebay. 30 euros a 25m roll of film with 30mm studs. UV stabilized. 1 meter wide. This way I can get the greenhouse thermally insulated quickly and easily.
One day later: The silicone is half cured - the film is on.
Unfortunately, there was night frost and so the silicone could not cure completely, which resulted in some brackets loosening again. But no matter, they are simply reattached in better weather conditions.
In total, we needed almost 50 brackets for the entire greenhouse (greenhouse type VENUS 3800), about half a cartridge of neutral-curing silicone and about 16 meters of bubble wrap with 30mm knobs - double-walled and UV-stabilized.
As an Amazon partner, I earn from qualified sales.
The references marked with an asterisk (*) are so-called commission links. If you click on such a referral link and shop via this link, I will receive a commission from your purchase. Of course, the price won't change for you. Please note that this website is not an online shop. You cannot use this page to conclude any sales contracts for the items shown and you cannot take advantage of personal advice on this. This page will redirect you to the relevant sellers or their online shops. You can only conclude purchase contracts with the respective seller in the respective online shop.
Last update of prices and product data on 05/23/2021 at 7:45 am / Price may have changed since the update / Prices include VAT plus shipping / Images in the recommendation boxes from the Amazon Product Advertising API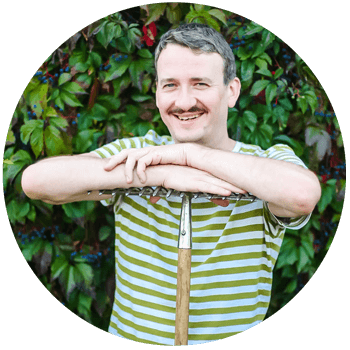 AuthorStefan
Since 2006 allotment gardener with passion and willingness to experiment. Garden blogger since 2011. Close to nature and close to the earth. Without a lot of frills. Garden as a feel-good oasis and summery living room without any pressure to succeed. Feel free to communicate via the garden fence - visit me on Instagram and Facebook! More about me
Also interesting: