The dark side of the K-pop clean guys
The "Washington Post" once called them the "biggest band in Asia": The five members of "Big Bang" were celebrated internationally not least because they adhered to the strict conventions of so-called K-Pop (Korean girl and boy bands ) have blown up. In contrast to the sugar-sweet standard music of their colleagues, Big Bang wrote most of their songs themselves and in some cases also composed them. Since their debut in 2006, they have sold over 140 million records, and their videos regularly reach up to 400 million viewers on YouTube. The rapid success story of Big Bang is now followed by a spectacular case.
On Thursday, 28-year-old Seungri (cover photo) appeared ruefully in a suit and tie in front of the Seoul police department. The singer, whose real name is Lee Seung Hyun, has been charged with running a prostitution ring. "I will be available to investigate and answer truthfully," he says, without answering questions from dozens of reporters.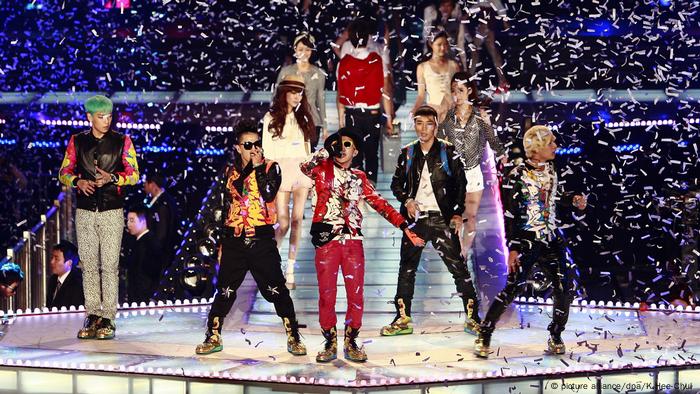 (Archive) Big Bang 2012 performance in Seoul
A scandal with consequences
The police have secured chat histories from 2015, which are said to prove that the celebrated pop star from Big Bang is said to have organized prostitutes for business partners from Taiwan. In return, he promised to invest in his company Yuri Holding. Prostitution is illegal in South Korea, albeit widespread.
The scandal caused an outcry in South Korean online media. "You should get an injunction and pass on all your income to the state," writes an angry user under an online article. Another says: "It was not an individual mistake. The scandal has had a negative impact on our entire society."
Seungri is considered the most enterprising of the five Big Bang members - he runs a restaurant chain and is known as the "Great Gatsby of K-Pop" because of his extravagant lifestyle. Until recently, he also acted as PR manager for the Burning Sun club in Seoul's posh Gangnam district.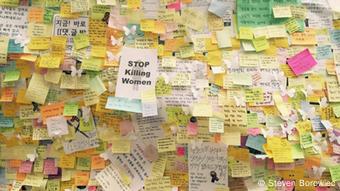 Mourning after the murder of women in Gangnam District in 2016
The K-pop patriarchy
The now closed club fell into disrepute months ago due to a whole series of scandals. Time and again, young women have claimed in anonymous online posts that they have been the victims of knockout drops there. Korean media report a "rape culture" that was covered by the club operators, bouncers and police authorities.
"The violence against women is structural - and the crimes often take place in secret," says feminist activist Seoyun: "Sexual abuse and harassment are often dismissed as minor offenses in South Korea. It is not uncommon for those affected to be discriminated against as guilty because of their clothing . "
The young South Korean is part of a group that calls themselves "burning feminists". They were founded after a murder in 2016 when a woman was stabbed to death in a public toilet in Seoul's posh Gangnam district. The perpetrator stated at the time that he did not know his victim, but that he was driven by a deep hatred of women. That case marked the birth of the feminist movement in South Korea. For the first time women systematically denounced patriarchy in public spaces, shared their stories of suffering and demonstrated their solidarity in demonstrations.
A few years ago, the scandal surrounding singer Seungri might have had no consequences. This time, however, the pop star has announced, after massive public pressure, that he wants to withdraw from the public. The shares of his label YG Entertainment also collapsed on the day of his withdrawal by 15.6 percent.
The scandal has drawn ever wider circles since then: According to police investigators, the deeply fallen K-Pop star Seungri was part of a chat group in which secretly filmed sex videos were shared. One of the perpetrators is singer Jung Joon Young, who has redistributed cellphone videos online of at least ten women with whom he has had sex. He too now has to answer in court. The singer Choi Jong Hoon from the band F.T. Iceland is also in the sights of the investigators: His statements in the same group chat suggest that a drunken car trip was put on record thanks to his relationship with a corrupt police officer.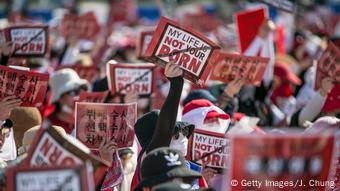 Protest against secret sex recordings in Seoul in 2018
Gradual rethinking
"Molka" is the name given to the sad phenomenon in South Korea where secret recordings of women end up on the Internet - during sexual intercourse, but also when showering or in public. It is common for many South Koreans to first look for hidden cameras when using public toilets. For a long time, the problem was ignored by the authorities. But after massive protests, there was a rethink: Many websites on which the voyeuristic videos ended up have now been closed. The Seoul city government has also trained specially equipped search parties who systematically scour the public space for Spanner cameras.
Even if the Korean entertainment industry outwardly propagates rigid moral ideas, there are repeated sexual exploitation and abuse of power behind the scenes. According to a 2010 survey by the South Korean Human Rights Commission, 55 percent of all actresses questioned said they had received such sexual offers. Half of them suffered professional disadvantages if they were rejected.
However, activist Seoyun believes Korean society has changed since last year's massive protest movements. Women are now resisting, and many perpetrators end up in court. "The Korean entertainment industry will change too. Sex offenders will soon be banned from TV screens. Their seats will be taken by singers who were previously not given a chance," she says.