How to make vegetable tacos
Tacos with beans and vegetables
Step 1/9
½ onion
4 tomatoes
2 Chillies
2 toesgarlic
300 mlwater
salt
Cutting board
knife
Blender
First a tomato sauce is made in which the rice is cooked. Put the tomatoes, some of the onions, the chillies, the garlic, salt and water in a blender and puree.
Step 2/9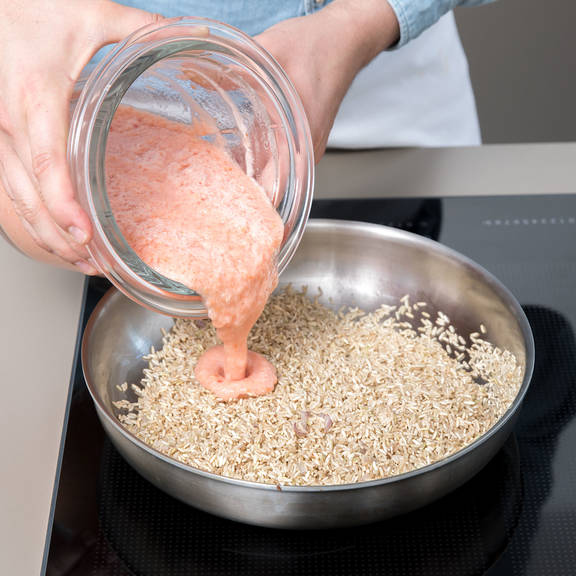 ½ onion
190 gBrown rice
Vegetable oil for frying
Now the rice is fried and steamed. First fry a little onion in oil, then add the rice and fry for approx. 2 minutes. Add the tomato sauce, bring to the boil and simmer until the rice is cooked through.
Step 3/9
300 gTortilla corn flour
350 mlwater
Then the tortillas are prepared. Put the cornmeal, water and salt in a bowl and knead until you have an elastic dough. Now shape the dough into small balls.
Step 4/9
Flatten the tortillas between two cutting boards or roll them out thinly with a rolling pin. Separate with cling film to prevent them from sticking together.
Step 5/9
Heat the tortillas on both sides in a coated pan. Keep fresh in a clean tea towel.
Step 6/9
1 onion
800 gCanned kidney beans
Kitchen sieve
Potato masher
pan
Next, the bean mixture is prepared. To cut onions. Drain and rinse the beans. Then heat some oil in a pan, fry the onion, add beans and either mash it in the pan or leave it whole.
Step 7/9
1 carrot
1 onion
1 chili
½ paprika
1 zucchini
3 Mushrooms
2 toesgarlic
Paprika powder
Chili powder
Garlic powder
pepper
Finally, the vegetables are prepared. You can actually use whatever is in the refrigerator. In this case we use carrot, onion, chilli, paprika, zucchini, mushrooms and garlic. Cut everything into small pieces. Heat the oil in a pan and first add the garlic, chilli and any vegetables that take longer, such as carrots and onions. Fry for a few minutes. Finally, add the rest to the pan and fry until everything is soft. Season to taste with paprika powder, chilli powder, garlic powder, salt and pepper.
Step 8/9
Coriander for serving
Lime for serving
All the ingredients are ready, so the tacos can be put together. Layer beans, rice and vegetables on each tortilla flat and serve with coriander and lime.
Step 9/9
Would you like to share your recipe with our hungry community? Every week we choose the best recipes to cook, photograph and publish. Just send your recipe to [email protected]!