Advantages and disadvantages of wood cladding
Although wood cladding is not a novelty in construction, it does not have to look boring or even old-fashioned. On the contrary: wood impresses with an extremely warm, cozy ambience and exudes a natural cosiness. This is particularly known from the Scandinavian architectural style. It is therefore not surprising that the material is still often used as a basis for facades or for interior walls.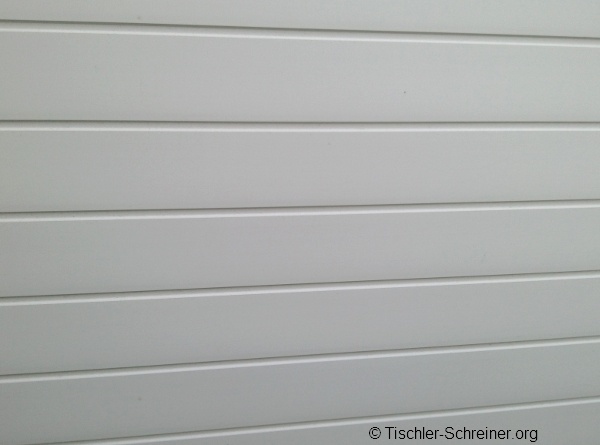 Wood cladding can only remain robust for a long time if it is well cared for. © Tischler-Schreiner.org
It doesn't matter whether you want to attach the wooden cladding to the walls inside or outside: There are many ways to do this. On the one hand, you can choose from simple facades with no frills, but you can also opt for special variants with carvings or other decorations. Even painting a wood paneling is becoming increasingly popular and opens up new possibilities for the design of a house.
The wood cladding - natural, versatile and robust
Incidentally, such cladding can by no means only be used for wooden houses. Even a stone house can benefit from the many advantages of wood cladding. If you want, you can also install a thermal insulation system. Nowadays, however, numerous builders still fear that a wooden facade will not last or will be damaged at some point. You don't have to worry about that, because with appropriate care and of course with a facade of good quality, it can be a beautiful ornament for several decades. You can choose from a wide variety of wood types, from pine to larch to spruce. Tropical woods are also very popular because of their elegant appearance - however, you should definitely pay attention to the corresponding certificates that guarantee that the wood comes from controlled plantations.
A disadvantage for some builders could well be that the material wood never rests, but always works and changes. Cracking noises from time to time are therefore normal. It must also be noted: Wood requires enormous care and must neither be damp nor infested with pests - otherwise the construction not only loses its elegant appearance, but also its stability.
Delete or not? The design of a wooden panel
If you don't paint a cladding, it will soon have an uneven surface. On the one hand, this looks very rustic, but is not desired by many homeowners. It is always stylish to paint the panels in a beautiful color. The classic is of course white, but the facade is also an eye-catcher in turquoise, red or delicate lime green.
Wooden cladding brings a natural atmosphere to every room, is versatile and can be used individually and, with proper care, is durable and robust. If this is missing, however, the wood can swell or become uneven. What you should also know about caring for wood cladding can be found here or you can ask a trusted specialist.