Bank of America bought Merrill Lynch
It is September 14, 2008: The most important minds of the US financial world holed up behind iron doors and barred windows of the New York Federal Reserve for two days to discuss how to proceed with the ailing investment banks. One of the gigantic problem children: The investment giant Merrill Lynch.
On Sunday afternoon, the Wall Street Journal reported online that Bank of America, then the largest bank in the United States, plans to buy investment giant Merrill Lynch for $ 50 billion - the next day it is certain. "We know that hard work is coming, but that's exactly what we're good at," said Ken Lewis, CEO of Bank of America, at the press conference, trying to spread calm. "We will create the best takeover in the world and the best financial services provider in the world," he proclaims, not entirely credible.
Third rescue operation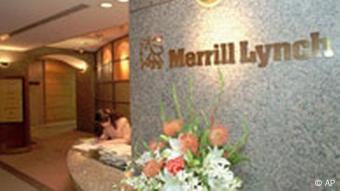 Harbinger of the shock wave: the investment giant Merrill Lynch is swallowed
Merrill Lynch had gambled away in the mortgage market. They had bet on a house of cards, explains Sharyn O'Halloran, political economist at Columbia University in New York: "The mortgages lost value, so the institutes could no longer convert their short-term loans into long-term ones." The value of the papers plummeted. The deal with Bank of America marked the relegation of one of the world's leading investment banks to the subsidiary of another bank - within a few months.
The result for Merrill Lynch: losses in the billions and a dramatic fall in the share price since 2007. The $ 50 billion deal of September 14 is the third rescue operation in the crisis year: Already in March, Merrill's smaller competitor Bear Stearns was in an emergency sale to the Financial group JP Morgan gone, and just a week earlier, mortgage giants Fannie Mae and Freddie Mac were nationalized.
Take a deep breath before the next shock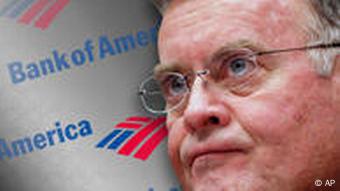 Wasn't convincing: Ken Lewis, head of Bank of America
But at first no one thought of breathing a sigh of relief on New York's Wall Street. "At first, everyone thought the merger with Bank of America was a good deal and people congratulated Merrill boss John Thain," recalls Arthur Cashin, a Wall Street trader with decades of experience. "But as the day progressed and the pressure on Lehman grew - you knew the price had not yet been paid". The Bank of America was next to the British Barclays Bank as a possible buyer for the equally badly ailing rival bank Lehman Brothers. But with the Merrill Lynch takeover, Bank of America had run out of steam: On Monday night it became clear: Lehman had to file for bankruptcy.
Authors: Jens Korte and Miriam Braun
Editor: Zhang Danhong