What a modern rock song is a classic
G&B Classics: 10 rock classics that you have to hear!
by Arnd Müller,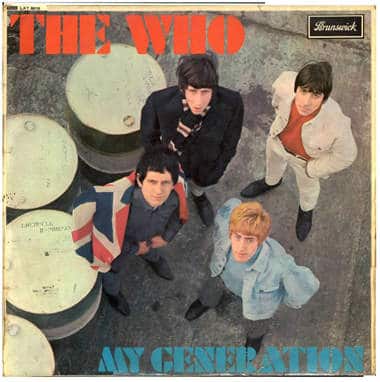 Rock is a multi-layered category that subsumes a wide variety of bands, from Cheap Trick to Hawkwind, from Bon Jovi to Iron Maiden. The following is not a best-of ranking, just a few tips for legendary studio albums of the genre: 10 rock classics that have moved many and still do. Listen!
THE WHO: MY GENERATION
THE WHO got the ball rolling in 1965. The driving quarter chords and the provocative lyrics of the over-hit, My Generation ', pushed absolutely sharply out of the speakers even in 2013. The debut album 'The Who Sings My Generation' - which was originally just called 'MY GENERATION' - featured a few other classics such as 'The Kids Are Alright', 'Out In The Streets' or the hearty to experimental version of the blues standard 'I'm a man'.
Pete Townshend inspired numerous other people to take up the guitar with his accentuated and aggressive rhythm playing and of course the distorted sound. The Who as a band set standards by electrifying soul and rhythm & blues. You can't get past these recordings.
BLACK SABBATH: PARANOID
After the self-titled debut, the British dark rockers around Ozzy Osbourne and Tony Iommi followed up with this stroke of genius in 1970. In addition to the biggest Sabbath hit to date, Paranoid '- you have to hear it, no discussion - there are other classics here such as, War Pigs' or the great, Iron Man '. Other songs show more playful influences like the psychedelic, Planet Caravan '. And thanks to drummer Bill Ward and a virtuoso geezer butler on bass, this metal classic even exudes jazzy vibes. , Paranoid 'was and is a blueprint for everything heavy metal can do.
LED ZEPPELIN: LED ZEPPELIN
With their fourth album, simply called LED ZEPPELIN '(also known as" LED ZEPPELIN IV "), Robert Plant, Jimmy Page, Jon Bonham and John Paul Jones delivered their masterpiece in 1971. Guitarist Jimmy Page created some of the most iconic riffs of the time in Black Dog and Rock And Roll. And his solo in "Stairway To Heaven" is one of the greats of the 70s, just as this number will be the ultimate ballad for all time.
DEEP PURPLE: MACHINE HEAD
MACHINE HEAD (1972) by Deep Purple is a hard rock heavyweight with songs for the ages:, Highway Star ',, Lazy' and, Space Truckin '', rockers can only shake their heads. Wasn't there something else? Exactly: This album contains, Smoke On The Water 'one of the greatest hits in pop music history in general - and from DEEP PURPLE. Guitarist Ritchie Blackmore launches some of his best riffs and solos on this bang album.
THE ROLLING STONES: EXILE ON MAIN ST
And what did the self-proclaimed "greatest rock-'n'-roll band in the world" do in the early seventies? THE ROLLING STONES went to the Côte d'Azur and recorded EXILE ON MAIN ST '(1972), which is considered to be one of their best albums. Mick & Co presented their own mix of hard rock, soul, lots of blues and country on four LP sides. The musicians have tried their hand at music here and have experimented with styles and sounds a lot, and here you can always discover crazy nuances in the mix.
Songs like, Rocks Off ',, Tumblin' Dice 'or the ballad-like, Shine A Light' are certainly among the best that the Stones have produced in 50 years. 'Exile…' is also the album on which Keith Richards perfected playing on only five strings in an open G tuning, as he explains in his autobiography "Life": "I had my first real experience on the five-string a few years earlier Made with Honky Tonk Woman. ... Then, when work on "Exile" started, I suddenly discovered a lot of new tricks - for example how I played minor or lead chords. Capo made things even more exciting… "Thanks, Keef.
PINK FLOYD: WISH YOU WHERE HERE
While the Stones always remained strongly connected to their blue roots, the British experimental band PINK FLOYD had developed into one of the main protagonists of progressive rock. , WISH YOU WHERE HERE '(1975) was another milestone after the mega-success, Dark Side Of The Moon,, which enabled a good introduction to the world of Pink Floyd. An epic album on which pieces flow into one another, and yet each one appears like a mini-film soundtrack.
Shine On You Crazy Diamond (Parts 1 - 5) begins with wide keyboard landscapes, on which David Gilmour almost spreads great melodies. , Welcome To The Machine 'is a dark trip through bizarre dreamscapes, is more catchy, Have A Cigar' with its funky grooves. And with, Wish You Where Here ', Pink Floyd not only created an homage to ex-member Syd Barrett, but also one of the most beautiful ballads of the 1970s.
VAN HALEN: VAN HALEN
Rock music became increasingly harder and more extreme in the late 70's. What, however, came to the world in 1978 with the self-titled debut album by the US band VAN HALEN, nobody had expected. The Californians with the exalted singer David Lee Roth rocked forward, and what guitarist Eddie Van Halen suddenly pulled off solo on, Eruption 'in one minute and 48 seconds, is still excellent shredding teaching material today.
Eddie confronted the scene with hyper-fast single-note attacks, never heard of two-hand tapping lines, piercing harmonics and dynamic dive bombs with the vibrato lever. And a lot of feeling for the tone in your fingers. After all, there are these thick riffs from today's perspective. The adaptation of the Kinks classic, You Really Got Me ', and, Ain't Talkin' 'Bout Love' is unquestionably one of the great heavy songs of the time.
AC / DC: BACK IN BLACK (1980)
With the question "What is rock?" One inevitably arrives at this classic. The Australian band had brought their straight riff-rock precisely to the point as usual, the huge overall sound, for which producer Mutt Lange was responsible, was new. Of the ten songs, one seems more monumental than the other, especially Hells Bells 'with its chimes. Also, Shoot To Thrill ', the funky title track and the hit, You Shook Me All Night Long' have been among the highlights of every AC / DC show since then. Ultimately, Back In Black 'is also a statement not to give up in difficult times.
The band was as good as it was after the death of their legendary front man Bon Scott in February 1980. In response to all speculation about the dissolution, this hit was released a few months later with the new singer Brian Johnson, which is now considered the second best-selling album of all.
Would you like to be able to include the distinctive and well-known riff in your repertoire? Here we show how it is played. You can also learn more about the concept behind the popular chord progression and how it is combined with the minor pentatonic scale.
NIRVANA: NEVERMIND
The aftermath can still be felt today: The US trio NIRVANA turned the rock world upside down with, NEVERMIND '(1991). The guitar was allowed to sound dirty again, whine, wobble and feed back uninhibited, a clear rejection of the format rock of the 80s. The mega hit, Smells Like Teen Spirit 'uninhibitedly combined punk and metal into a sharp dynamic mixture. And also, In Bloom ',, Come As Your Are' or, Lithium 'became hits of" grunge rock ", as the new wave from Seattle was called.
Singer & guitarist Kurt Cobain was hyped up to be a superstar, on April 5, 1994 the pressure became too great and Cobain left his life voluntarily. Drummer Dave Grohl later switched to mic and guitar to establish the Foo Fighters, one of the most important bands in recent rock history.
RADIOHEAD: OK COMPUTER
RADIOHEAD closed the end of this tip list with their groundbreaking work, OK COMPUTER '(1997). Rock, Pop, Progressive, the Oxford band poured these influences into playful and catchy and simply extremely cool songs. It is impressive how electronic sounds and guitar sounds laden with reverb and delay overlap or contrast, only to end up united in the hymn-like chorus. Thom Yorke is enthroned above all with a lot of Weltschmerz in his voice. A timeless album that sums up everything that alternative rock is about.
---
G&B Classics
Often looked up, critically questioned, hotly debated - the G&B Classics are the most popular articles of the Guitar & bass-History. As they keep reaching new readers and sparking lively debates, we regularly take them out of the archive for you.
You might be interested in that too