Did Trump tear American society apart?
Will the USA become a trouble spot?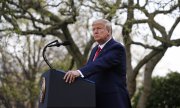 Covid-19 is now also confronting the USA with sad facts: Over 2,400 dead, more than 140,000 infected. President Trump, who had spoken in the past few days about wanting to lift containment measures such as social distancing at Easter, has now extended them to April 30. However, the country is shockingly ill-equipped for such a crisis, commentators say.
Open / close all quotes
The consequences could tear society apart
Not only Trump reacted too late to the crisis: the administration and the federal states also have no strategy so far, criticizes the Washington correspondent for the Süddeutsche Zeitung, Hubert Wetzel:
"[That] will cost the lives of thousands, maybe tens of thousands, of people within a few months. That will deeply traumatize society. In addition, millions of citizens will lose their economic existence. And unlike in Germany, there is no social network to catch the fallen. Perhaps it is time to read 'The Fruits of Wrath' again, John Steinbeck's novel of the century about the Great Depression. In it you can find an idea of ​​what the future might look like. ... Economic hardship and political radicalization - that can tear American society apart. "
Trump's policies only make things worse
The US is now the epicenter of the pandemic, but President Trump is not the solution to the problem, but part of it, Hospodářské noviny notes:
"Dr. House is a fairy tale, and Americans' undisputed successes in high-end and experimental medicine say nothing about universal health care. The general public in the US has more complicated or much more expensive access to reliable care than in most European countries. And the ineptitude of the current US administration has now underscored this. "
More current debates