Lençóis Maranhenses - Brazil's unique desert landscape
Is it a perfect desert landscape, a blue lagoon or is it a white sandy beach on the sparkling blue sea? Many travelers have these thoughts in their minds when they first enter the Lençóis Maranhenses National Park. The correct answer is: a little bit of everything.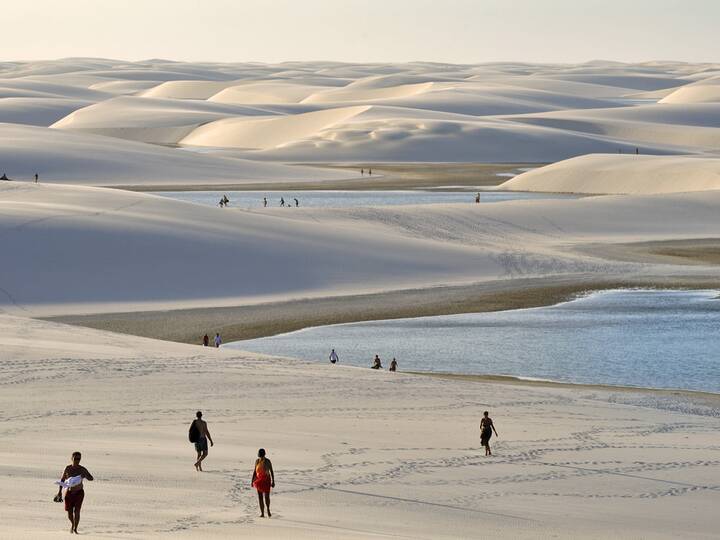 Sand dunes as far as the eye can see (T photography / Shutterstock.com)
The dunes of Maranhão
The national park in north-eastern Brazil in the Maranhão region is a desert with extremely high levels of rainfall. This means that lakes and lagoons are formed everywhere, especially in the rainy season. No lagoon is like the other and the landscape with the shifting dunes changes every time. Lençóis means bed sheet in German.
A landscape in motion
But it is not only the crystal blue lakes that distinguish the Lençóis Maranhenses National Park from other deserts. Temperatures that rarely exceed 35 degrees and a light breeze make it possible to explore the park on foot. The best places to start are Caburé and Atins. They are located on the coast, can be reached by boat and offer numerous small hostels. Some tour operators also make it possible to spend the night in the park - in the style of Indian Jones in a hammock. If you don't want to take it that daring, you can alternatively be chauffeured from one lagoon to the next.
This is how you get to the park
The 40 km2 national park can be reached from all major cities in the vicinity. The most popular starting point is the small fishing village of Barreirinhas, which is approx. 11 kilometers away. In the park itself, you can only get around with jeeps. The unique dune and lagoon landscape can be explored all year round, but the time between June and September is best. After the rainy season, which lasts from January to May, the lakes have sufficient water and the flora and fauna are at their most abundant.
The only desert in Brazil
The relatively young national park - it was only officially named in 1981 - is home to a unique flora and fauna. Cacti, mangroves, sand grasses and bushes line the landscape. The cycle of numerous fish and marine animals that settle in the lagoon during the rainy season is particularly curious. In the dry season, some stay in the only permanent lagoons (Lagoa da Esperança, Lagoa da Bonita and Lagoa de Azul), while others dry up with the water. Only the spawn survives in a moist layer in the sand and only hatches in the next rainy season.
Lençóis Maranhenses Park is also home to some species of turtles that are critically endangered. However, the water must not only be used for cooling by the many resident animals. In the lagoons, with their unique play of colors, you can also swim wonderfully. Bikini or swimming trunks should therefore definitely be carried with you.