What's your rating of 23andMe company
23andMe: Finally FDA Clearance? (May 2017)
Bit by bit 23andMe is fighting its way back. The company now has FDA clearance, but only for a single test, as engadget reports. This shows how difficult it is for 23andMe to meet the regulatory requirements, especially those of the FDA. Probably the challenges mainly concern the proof of the clinical efficacy, especially since 23andMe not only has to bring the medical device FDA-compliant into circulation, but also partially carries out the underlying research.
In the meantime, 23andme has received FDA approval again, but the scope of the tests is severely limited. E-Health-Com writes that not even the BRCA mutations, which lead to hereditary breast cancer, are in 23andme's portfolio. Angelina Jolie decided to have an operation based on this genetic finding ...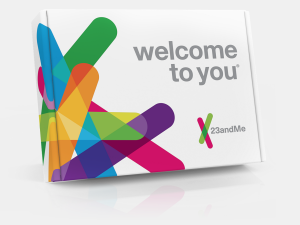 I would also be interested in how 23andMe documents the software and algorithms - the software requirements specification, the software architecture and associated verifications.
Thanks to JN
23andMe: now with CE mark (December 2014)
Obviously, 23andMe has been convinced that their products are medical devices after all. After the FDA warning letter, the company has now even received a CE mark, as "SmartBrief" reports:

I would be very interested in the technical documentation, especially the part of clinical evaluation and risk management.
If it really matters (specifically, if I had to fight cancer), I would rather entrust myself to the services of Molecular Health. Die WELT reports on this exemplary company. I know what I'm talking about.
Thanks to Peter Müllner
23andMe in Trouble (December 2013)
I have reported several times about the 23andMe company; for example, that I used their services and what results I got. But also about the fact that 23andMe obviously created multiple incorrect reports.
Now the FDA has sent a warning letter to the company that has it all. The company is accused of marketing and actively promoting a medical device that appears to have no FDA clearance. This warning should not come as a surprise to the company, because the discussions with the FDA seem to have been going on for years without the company having managed to comply with the legal requirements.
The website is still online and the kits can still be bought. But the FDA's 15 days is unlikely to be enough to adequately address the problem.
As much as I would regret that genetic tests are no longer available so easily and cheaply, I find the FDA's argumentation understandable. In this case, I even get the impression that 23andMe was trying to sit it out, maybe even mess with the FDA. Something like that rarely goes well. Even if the owner is Mrs. (ex-) Google.
Thanks to MW, MK, DrCJ, US
23andMe gives in!
The first 23andMe blog post after the FDA's warning letter sounded almost defiant, and the company continued to sell the test kit. That's enough of that: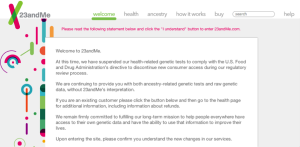 The company gives in and discontinues its offer. Arguing with a police agency is certainly not very smart either.
By the way: In 2009 I offered 23andMe my (free!) Help with the FDA-compliant documentation of its development (I had my US research semester ahead of me at the time). Thank you politely and say that it is not a medical device ...
Self-test: I have sent in my sample
I did it. Totally exposed. Completely naked, except for the last gene. In the self-experiment "personalized medicine" I want to know what molecular diagnostics think it knows about me.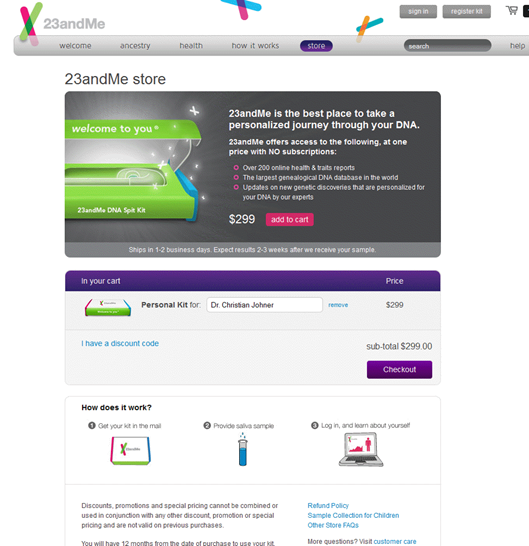 My saliva sample has been sent in, 23andMe has my data. Now Google knows everything about me (the wife of "Mr. Google" is the owner of 23andMe).
And soon I know things that I may never have wanted to know. I keep you informed.
My first DNA test: a little Tuareg
23andMe sends me an email. My genetic data have been further evaluated - there is new information about my ancestors. I'm curious. So log in now and see who I am from.
Aha, I am 99.3% European. Well, you could probably have given me this diagnosis a little cheaper.
But 0.1% of the time I have North African blood in me. Do I owe my love of freedom to the Tuaregs?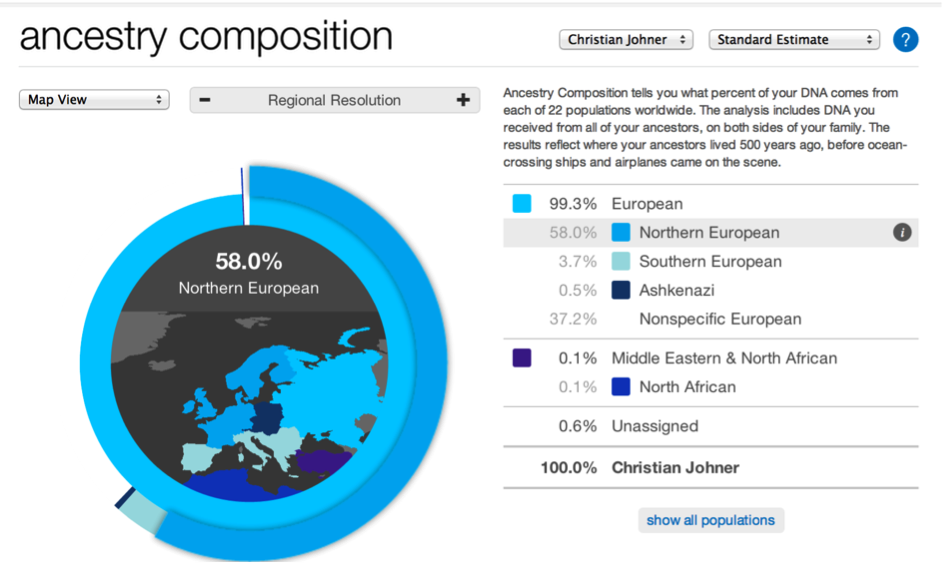 genetic ancestors
More details of the analysis: Am I about to have a heart attack?
The results of my genetic analysis are there. I have to confirm several times that I really want to see them. I agree - and am shocked:
The report begins with a list of diseases that I am more likely to develop. I seem to be particularly exposed to coronary heart disease. There is over 60% probability that I will get it. You feel really bad right away.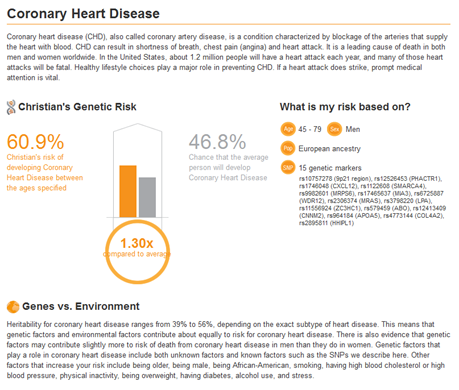 Of course, you have to take into account that over 46% of the average population will also suffer from this disease, so I have "only" a 1.3-fold probability. Still, thoughtfully that's true.
Interestingly, the results are diametrically opposed to what my doctor said. But that is not surprising either, because it takes into account parameters that have an almost even stronger influence on the development of this disease than genes: For example, exercise, blood pressure, alcohol consumption, and cholesterol. I would be really interested to know how these parameters affect the calculation of 23andMe. Because that way you only have half the truth, and that only helps me to a limited extent. I am already living very healthy, which puts the real likelihood of coronary heart disease probably well below that of the average population.
Once again it becomes clear that medical data can only be processed into actionable knowledge if it is complete and correct. But that's where we regularly fail. A lack of interoperability of the systems, a lack of will and a lack of understanding of those involved lead to data graveyards and missed opportunities for research and patients.
By the way: Google knows everything
The last day of the institute was all about personalized medicine and thus also molecular medicine. It was also mentioned that Google is indirectly involved in the service provider 23andMe.
What Google wants to express with the following image is not very clear to me. "We are also looking for genetic data?" "We know everything about you?" 🙂